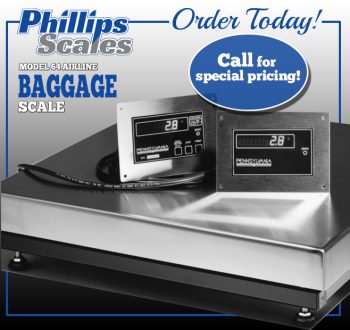 Airports throughout the world are finding the rugged simplicity and long life of Pennsylvania airport scales are ideal in the hard knock life of weighing airline baggage. Architects and designers appreciate our responsive customer service and clean designs.
Airports and Gate Supervisors appreciate the rugged construction and sustained accuracy as well as compliance with local Weights and Measures regulations. Due to the increased emphasis on baggage weighing for weight and balance purposes plus charging for excess baggage weight, there is a renewed emphasis by the FAA and local Weights and Measures agencies for approved scales.
Pennsylvania Scales, offered by Phillips Scales are widely used by municipalities, Airport Authorities, and commercial Airlines for the purpose of baggage check-in; our reputation for rugged reliability and no-nonsense support is spreading rapidly in the airport business. Major users include (but are not limited to) US Airways Pittsburgh; Miami International Airport (all terminals); Alaska Airlines; Cancun, the Dominican Republic, Amtrak, and many other installations at major airports and terminals worldwide.