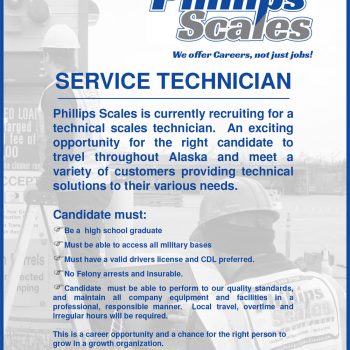 At Phillips Scales, we offer a variety of challenging opportunities for talented individuals who like to move things forward and contribute to innovation. You will find interesting career prospects in such diverse fields as Technology, Marketing, Sales, Business Administration all within an international growth environment.
We are a relatively small company with a family-type feel and team-members all feel a sense of responsibility to their team and the customer. We are always striving to improve our knowledge base with training and hands-on experience remembering that the customer comes first.
We invite you to learn more about the team of Phillips Scales and your own professional opportunities by downloading our employment application, SAVE AS to your desktop, fill out the appropriate fields and email it back to careers2 at phillipsscalesalaska.com.