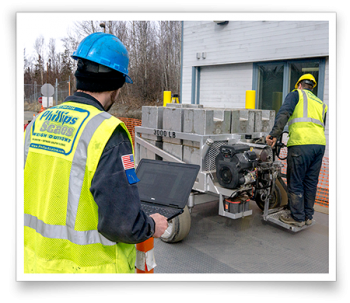 Phillips Scales is Alaska's largest distributor of commercial and industrial scales . We have one of the largest privately owned "test truck" and we have designated satellite facilities throughout the state of Alaska. We specialize in airport, bench, cargo, crane, floor, retail and truck scales.
Whether you are spending $2000 – $1.2mill on a scale for your facility, Phillips Scales has fully trained and certified technicians that provide maintenance and calibrations for your scales to ensure you are not losing revenue due to your scales being out of calibration.
The Phillips Scales business name comes from a man named Brick Phillips who serviced the fishing industry from the early 50's out of the Seattle Area. He later expanded his region and traveled North with the Fishing fleet out of Seattle. So the business was centered in Seattle and covered all the northwest.  Later, into Alaska he would travel with the boats and fleets as they moved north in the spring and would return to Seattle last in the fall after all the fishing was complete. Brick's  major ports were Ketchikan, Wrangle, Sitka, Petersburg, Juneau , Cordova and Valdez.
In 2009, With a complete overhaul of their inventory management and accounting systems, Phillips Scales has seen tremendous growth since 2010 and with a continued commitment to training and building relationships will all of their key suppliers, once again Phillips Scales looks to be the primary supplier of industrial scales and service in Alaska.