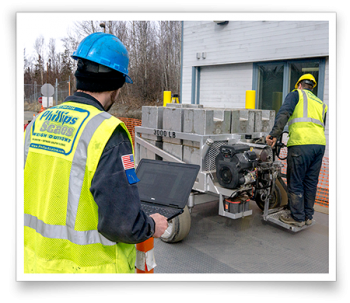 Phillips Scales is Alaska's largest distributor of commercial and industrial scales. We have one of the largest privately owned "test trucks" and several satellite facilities throughout the state of Alaska. We specialize in airport, bench, cargo, crane, floor, retail and truck scales.
Whether you are spending $2,000 or $1,200,000 on a scale for your facility, Phillips Scales has fully trained and certified technicians that provide maintenance and perform calibrations to ensure you are not losing revenue due to inaccurate readings.
Phillips Scales is named after Brick Phillips, who serviced the Seattle area fishing industry beginning in the early 50's. He later expanded his operations, following the Fishing fleet out of Seattle until his business covered all of the northwest. Brick eventually made his way to Alaska where he would travel with the boats and fishermen up north in the spring, then return to Seattle late in the fall after the fishing season wrapped up. Due in large part to Brick's hard work, Phillips Scales now conducts business in many major Alaskan ports such as Ketchikan, Wrangell, Sitka, Petersburg, Juneau, Cordova and Valdez.
After a complete overhaul of the inventory management and accounting systems in 2009, Phillips Scales experienced tremendous growth. With a commitment to training employees, working with suppliers, and maintaining positive relationships with customers, Phillips Scales has become the premier industrial scale and service supplier in Alaska.