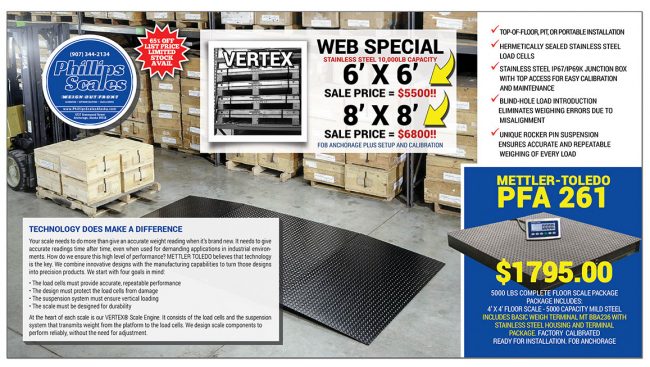 Mettler Toledo Vertex Floor Scale
Phillips Scales is ready to move some of our floor scale inventory.  We have a few of our stainless steel Vertex floor scales we are selling at 65% of MSRP.  Plus, this are in stock in our Anchorage facility saving you $100's in shipping costs.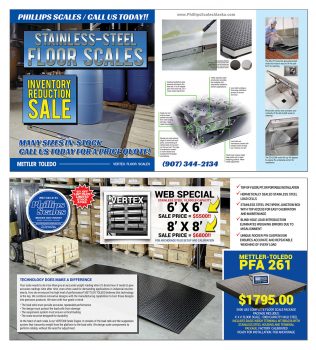 High-performance industrial floor scale
VERTEX® floor scales are designed to meet a wide range of industrial weighing needs. They provide reliable weighing for users that demand proven performance in batching, filling, weigh-out, counting, and other operations. A simple design eliminates most adjustable mechanical parts that commonly wear out or lose tolerance over time. The heavy channel reinforced construction is ideal for demanding operations, including heavy forklift traffic. Standard products: painted mild steel and stainless steel models in 3×3-feet to 5×7-feet sizes and 1,000-lb to 20,000-lb capacities. Our FastFab™ capabilities let you specify a custom VERTEX® floor scale for your application.
Top-of-floor, pit, or portable installation
Hermetically sealed stainless steel load cells
Stainless steel IP67/IP69K junction box with top access for easy calibration and maintenance
Blind-hole load introduction eliminates weighing errors due to misalignment
Unique rocker pin suspension ensures accurate and repeatable weighing of every load
100% end-loading capacity ideal for high-traffic applications
Integral mechanical overload protection
Lower frame protects weighing assemblies
Low profile for easy loading
Two-part epoxy paint coating for durable finish
Safety tread-plate standard (optional smooth-plate surface and stainless steel construction)